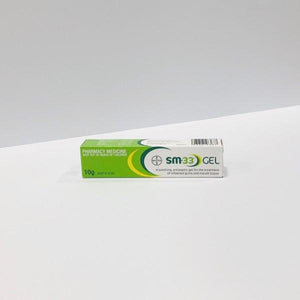 A soothing, antiseptic gel for the treatment of inflamed gums and mouth tissue.

Pharmacy formulated, SM 33 Gel's three way action will numb the pain of sore gums, the antiseptic will stop infection at the site of erupting tooth and the natural astringents will soothe and cool the inflamed gums. Ideal for teething infants and is also perfect for children and teenagers suffering the pain of sore gums due to braces.


Ingredients

Contains: 
Lignocaine 0.5% w/w Salicylic acid 2.0% w/w Tannic acid 0.5% w/w Menthol 0.05% w/w Thymol 0.05% w/w Glycerol 20.0% w/w Ethanol (95%) 40.0% w/w 

Contains no artificial colours, flavours or preservatives Gluten free Lactose free.
Directions
Apply only to the affected area every three hours. Avoid prolonged treatment.
If condition persists seek medical advice.
After usage ensure that the cap is replaced and sealed tightly.
Indications
A temporary pain relieving treatment for: Infant teething Transient mouth ulcers New dentures Abrasions & inflammation of the gums, palate & tongue