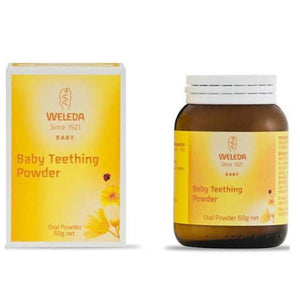 Weleda Baby Teething Powder is a homeopathic preparation for the treatment of discomfort in teething babies and children. Parents tell us that they love this effective powder which can be mixed with breast milk or formula on a spoon and given to sad little ones to soothe their distress during teething.
We love that this is free from synthetic preservatives which can be very harsh on the developing baby gut.
Weleda Baby Teething powder has Conchae is added to sooth aches and pains and to comfort an unsettled child, and Chamomilla root for those same efforts and for calming.
Ingredients: Equal parts Conchae 6x (Oyster shell; Natural Calcium Carbonate) and Chamomilla root 20x in a lactose base.