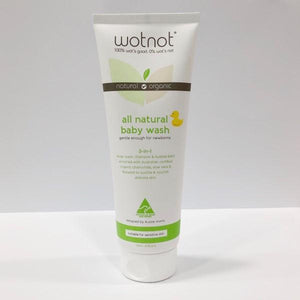 Approved for use with the most sensitive skin, including eczema, rosacea and psoriasis. 
A delicate natural baby wash for top to toe that cleanses without removing baby's natural oils. Wotnot Baby Wash is enriched with certified organic flaxseed oil which is one of nature's richest sources of omega-3 and omega-6. Omega-3 is considered essential to human health but cannot be manufactured by the body. 
Our baby wash also contains certified GMO-free vitamin e to soothe your baby's skin, and is gentle enough for newborns.
Ingredients
Aloe vera leaf juice*, decyl glucoside, glycerine, purified water, xanthan gum, flaxseed oil*, d-alpha tocopheryl acetate (gmo-free vitamin e), sweet orange oil*, essential oils of rose, chamomile oil*, rice flour*, citric acid, potassium sorbate (food grade preservative) 
*certified organic ingredients